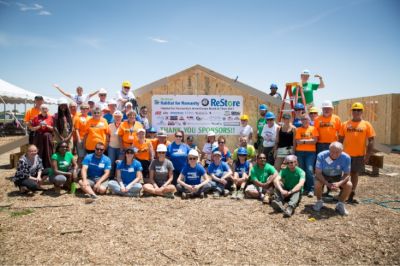 Berthoud Habitat for Humanity is fortunate to have dedicated volunteers who give of their time and talents to help people in our community gain access to affordable homes with zero-interest mortgages.
Whether you're a hammer-swinging expert or have no experience at all, your help is always needed. Register to come out to a construction site and learn about other exciting opportunities to get involved.
Having been founded by volunteers, and managed by an all volunteer board of directors, the dedicated team at Berthoud Habitat is involved in all the components of the organization. 
Volunteers help on the construction of our homes, the important committee work, support on events and fundraising, and help at our ReStore. Without their time and talents, we would not be able to help those families in need of housing in our community.
Our volunteers are a cross section of our community, from business owners to retirees, from life-long residents to those newly moved to our great town.
Interested in learning more? Fill out the online volunteer application form and we'll contact you.
 
There are a number of volunteer opportunities, sign up to learn more: