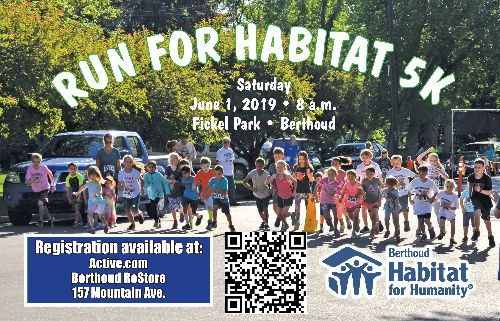 The annual Run for Habitat 5K held on the first Saturday every June is a fundraiser for Berthoud Habitat Humanity.
Registration forms for the race are available at our ReStore, 157 Mountain Avenue, Berthoud. 
Online Registration is available at this link.
About the event:
The run/walk event is staged to begin and end at our scenic Fickel Park, centrally located in Berthoud, Colorado, with the run/walk taking place through neighboring residential streets, guided by signage along the route, along with race Marshals. There is a watering station at the start, finish, and midway through the race route. The route allows runners to see our Habitat partner family's homes and those under construction on N. 4th Street.
The children's Free 1K will be held prior to the 5K and will give children the opportunity to participate in the festivities. The children's race starts at about 8:00 am.
While there are competitive racers running – because this is a Certified USATF 5K distance with computer timing – parents are welcome to bring strollers for little ones to enjoy the 5K walk on a generally mild June morning. You are welcome to bring your four-legged friends (on a leash of course).
All proceeds from this event will go toward Berthoud Habitat's work to build homes in our community serving families in need.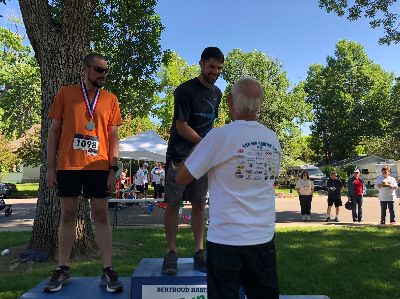 Following the race, medals are awarded for the overall top Male and Female finisher, along with Male and Female athletes who place first, second and third in the following 9 age categories:
10 and under; 11 – 14 years old; 15 – 19 years old; 20 – 29 years old; 30 – 39 years old; 40 – 49 years old; 50 – 59 years old; 60 – 69 years old; And 70+ years old
Awards are also presented for the Children's 1K Race, with ribbons presented to the first, second and third place finisher. All children will receive recognition for participation in the Children's race.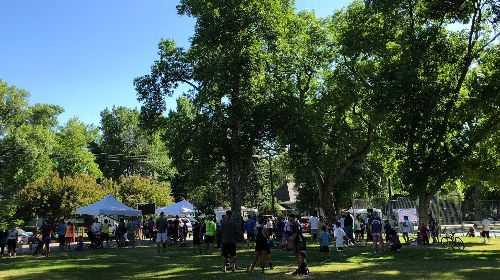 Event details and schedule:
On-street parking is available near Fickel Park and on nearby residential side streets.
6:45 am – 7:45 am – Arrival of registrants. Pick up Packets, Race Day Registrations available ($5 increase from Pre-Race Day Registrations per individual) Ongoing until race starts.
Race participants may pick up their race packets at Fickel Park the morning of the race. We DO NOT have pre-race day packet pick up. This packet includes your numbered race bib, safety pins and race t-shirt.
There will be water (donated by Eldorado Natural Spring Water) and snacks for racers pre- and post-race in Fickel Park.
8:00 am FREE Children's 1K
About 8:15 am Start of the 5K Race, dependent on the number of children participating in the 1K.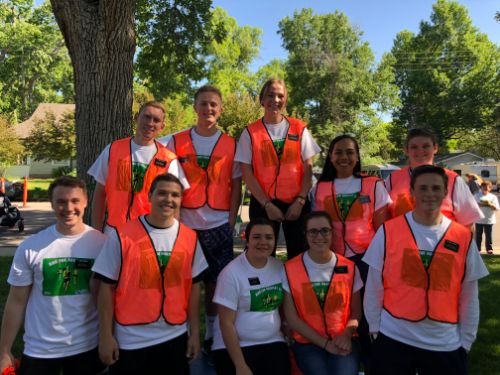 There are some mild elevation changes throughout the course, but for the most part the course is flat, staged through residential neighborhoods, with signage and volunteers to help along the way. This is a safe route for families with children who may want to participate in the 5K walk. There will be race maps available on race day that outline the course through the neighborhood. We have volunteer race marshals staged along the race route course as well, for any questions participants may have.
We generally have good weather on this race day, but come prepared for anything. While the morning may be cool, given it's early June, by the end of the race it could be quite warm, so layering for the race may be helpful.
There is a water station staged in Fickel Park for the beginning of the race, at the midway point of the race, by the Habitat partner family homes on N. 4th Street, and at the end of the race when runners and walkers cross the finish line by Fickel Park.
Signed Waivers are Required for all participants.