We have built 19 homes locally. Berthoud Habitat has worked with in-kind donors and sponsors and maintained a low cost-of-construction for a single family home among both commercial and non-profit developers in the area.
Information on homeownership qualifications are outlined below. Please note that there are English and Spanish versions of downloadable Homeownership Application Packets at the bottom of this page.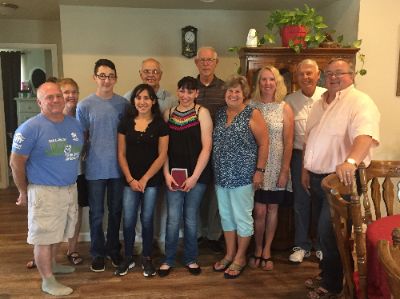 Homeownership Qualifications:
You must live or work in Berthoud or Campion for 1 year or more

You must be a citizen of the United States or a legal permanent resident

Currently Payment of Rent is 40% or more of your income

No bankruptcy in the past two years, no outstanding liens, judgments or non-medical collections

Currently paying bills on time

Applicant may not currently own a home

Turn in all paperwork, including financial documents, on time

Be interviewed by a selection committee
Habitat Homes are affordable because:
They are built by volunteers working with future homeowners.

House payments are no more than 30% of the homeowners monthly income at origination
Habitat Homeowners are required to:
Contribute 250-500 hours of 'sweat equity'

Attend budgeting, home maintenance and other classes
Program Qualifications:
Housing Need (for example):
Inadequate Housing

Unsafe Neighborhood

Housing is Temporary or Transitional
Willingness to Partner (for example):
Attend an orientation

Turn in all paperwork on time

Attend classes once selected

Complete all 'sweat equity' hours before moving into your home

Ability to Pay
Ability to Pay:
Meet income guidelines

Debt to Income Ratio 43% or less (Monthly Debt Payments on Credit Report + Potential Habitat Mortgage / Monthly Income = Less that .43)

Be able to save $2,500 for closing costs
Homeownership Applications:
To download the application packet in English or Spanish, please click one of the links below and it will open in a new window with a downloadable application.
For more information about our homeownership programs, please contact our office at Homeownership@berthoudhabitat.org
Para obtener más información acerca de nuestro programa de propiedad de vivienda, por favor póngase en contacto con Ricardo Haskins, a (970) 818-2577.